Video Games Composers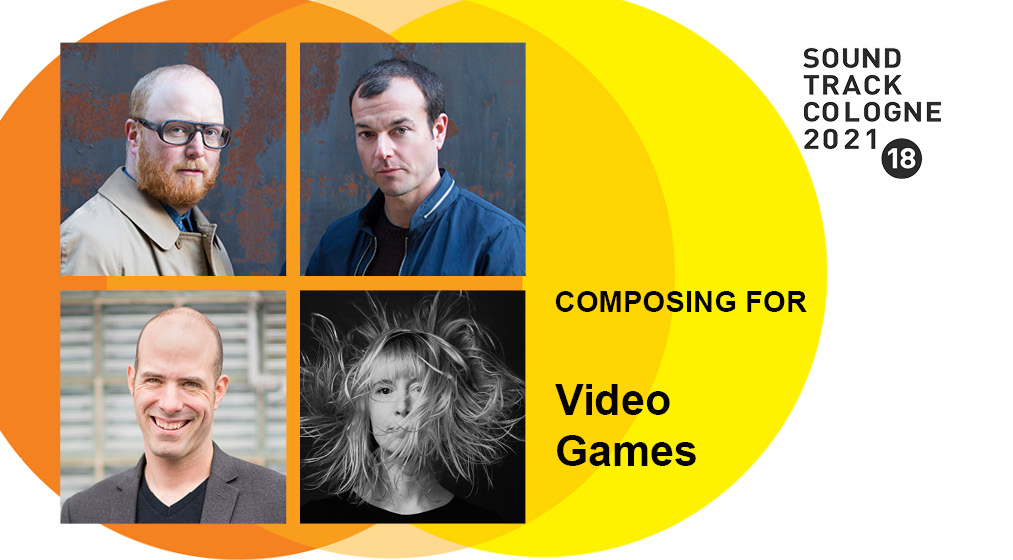 Joe Henson und Alexis Smith aka. The Flight ("Assassin's Creed Odyssey"), Mathieu Lavoie ("Dungeons & Dragons: Dark Alliance"), as well as SØS Gunver Ryberg ("Inside") speak at the thematic block "Composing for Games" (Thu, 18.11.2021) at SoundTrack_Cologne 18 (17. - 20.11.2021).

Please note: Admittance to the congress will only be granted to fully vaccinated or recovered people. Additionally, you have to show proof of a negative Corona Test (not older than 24h). The test has to be in a form of a certificate from an official authorised test center. Antigen-self-tests will not be accepted.
A negative test result alone, without proof of a full vaccination or recovery, will not grant you entrance to the Congress.

The Flight - "Assassin's Creed Odyssey"

The Ivor Novello award-winning composing duo known as The Flight (Alexis Smith and Joe Henson) have worked with some of the biggest names in the music industry and are leading A-list composers for video games. Together they scored the hit survival horror title "Alien: Isolation", followed in 2017 by "Horizon: Zero Dawn", and then Ubisoft Québec's Assassin's Creed Odyssey.
But their work isn't just limited to video games; their television projects include the BAFTA nominated BBC documentary series "Drugsland" as well as "Kids on the Edge", produced by Century Films.


Mathieu Lavoie - "Dungeons & Dragons: Dark Alliance"
Mathieu Lavoie is an award-winning composer, entrepreneur and educator. Doctor in composition at the University of Montreal, he co-founded Vibe Avenue, a leading audio and music creation studio for visual media, with fellow composer FX Dupas, in 2013. He also holds a position of professor for Games Audio at the University of Quebec in Montreal. 


While also assuming the role of co-creative director and CEO, he has worked on music for dozens of video games ("Star Trek Fleet Command", "Omensight"), films and commercials, as well as many concert pieces. His most recent projects include the adventure RPG "Dungeons & Dragons: Dark Alliance", which was released this year and for which he will present a case study at SoundTrack_Cologne 18.



SØS Gunver Ryberg – "Inside"
Danish composer and sound artist SØS Gunver Ryberg is known for her genre-defying electronic music and acclaimed soundtracks, live concerts, dance and theatre works and installations.

She also composed the score for the Danish drama "Cutterhead", which also won awards such as the "Best Music Prize" at the French film festival Premier Plans D'Angers and was nominated for the "Best Electro Acoustic Score 2021" at the Camille Awards.
The composers will talk about their current projects, elaborate on the special challenges of composing for video games, share personal experiences working in the entertainment industries, and finally answer questions from the audience. Composer Helge Borgarts will moderate the day.
The program of SoundTrack_Cologne consists of three major thematic blocks "Composing for Games" (Thu), "Composing for Film" (Fri) and "Composing for TV series" (Sat), among others.